Makino Skate Park
Budget: $600,000
Timeline: 1 Jan - 1 July 2020
Status: Under Action
A skate park provides a great opportunity for a wide range of our Community to come together in a positive way that encourages active and passive recreation, community health, sport, and just being able to be together in a social hub. Skate parks, contrary to a common perception, are not just a teenage thing – skaters can show their skills while to whanau, while the non-skaters can enjoy the fun and energy of being there.
Replacing the existing South Street park, where the land is for sale, the new skate park beside the Makino Aquatic Centre is part of a wider program to create an integrated recreational, cultural and social context, with in a well landscaped environment.
Historically skate parks were place away from popular locations, but contemporary thinking is they should be placed closer to hubs of activity where there are other things can be accessed
When completed the skate park will integrate with the Lions mini golf, there will be seating and picnic areas and people will be able to get down to the Mangakino Stream or go swimming at the Makino Pool.
---
Project Updates
The bowls take shape
You can see the bowls taking shape as they are sculpted from the pumice, rails added and concrete poured.
(Published: Monday, 23 March 2020)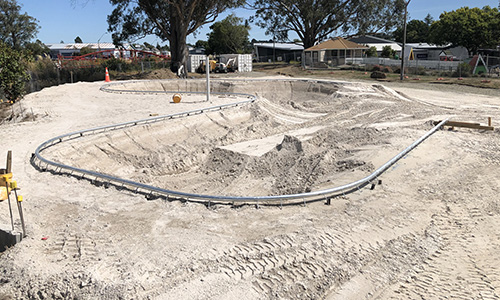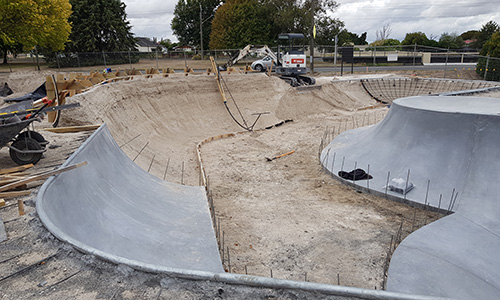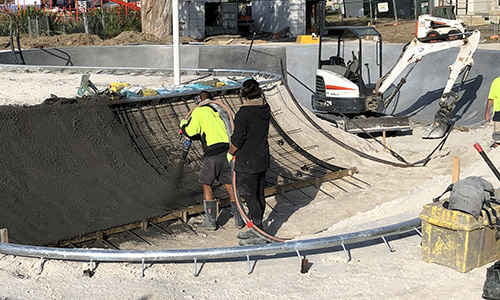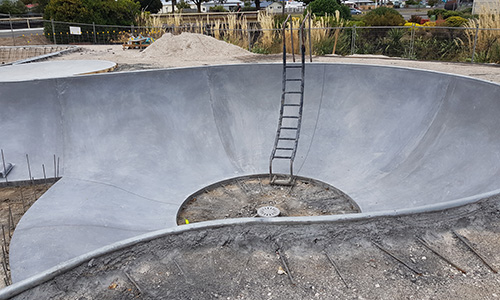 ---
Building the bowls
With the old pond gone work has begun on the creation of the skate park features. A key feature in any skate Park is the bowl. Here the bowls will be sculpted out of a pumice mix that will be covered in concrete the shaped and smoothed. This may mean working the surface about 13 times to ensure it is perfectly smooth and thee right shape.
(Published: Saturday, 22 February 2020)
Pictured below: The project contractor Angus McMillan Concrete meet with Mayor Worboys and the project team to provide an overview of what has been done and how the pumice pile will be sculpted.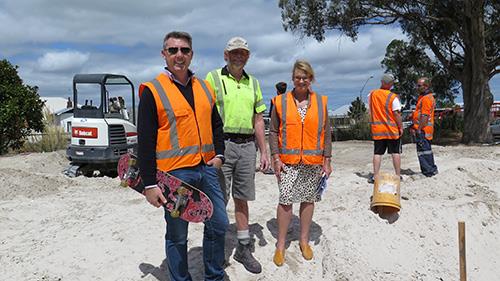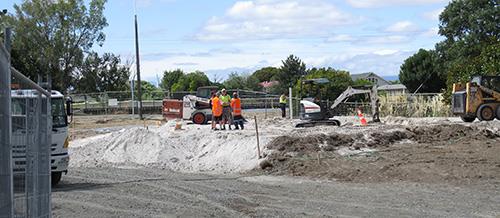 ---
Work begins
Work has begun on the new skate park with the removal of the old de-chlorination pond. This pond was used to remove the chlorine from the Makino Pool water, using sunlight, before it drained into the stream.
The existing trees are being kept, and will provide shade for resting skaters and for picnics.
(Published: Thursday, 30 January 2020)