Lance Berry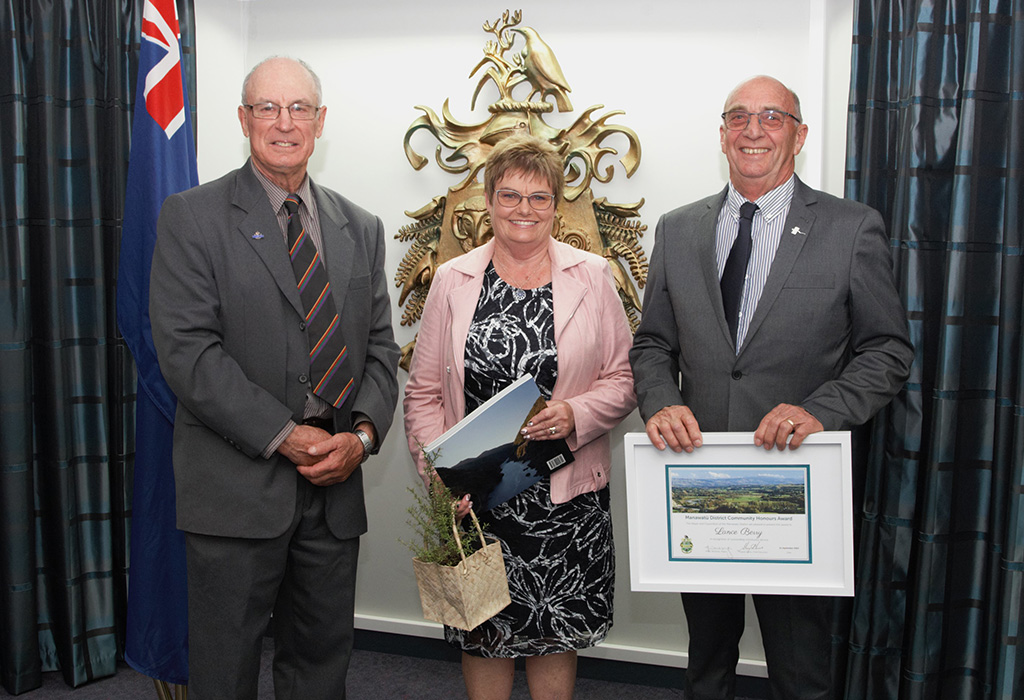 Citation Speech for Lance Berry
Lance is a true community champion, whose dedication and generosity over the past four decades has gone into making Rongotea and the surrounding district a better place. With a green thumb and a vision, he transformed a block of land adjoining his property into an English garden, complete with manicured box hedges and a stunning variety of over 300 roses. Twenty-seven years ago, he rallied the community to plant over 3000 cherry trees, generously donated by the Otara Birch nursery. But his contributions extend far beyond the petals.
For a decade during the 1990s, Lance served as a devoted Cub and Scouts leader at Te Kawau. A valuable member of the Rongotea Community Committee for many years, Lance was elected Chairperson in 2020. He has volunteered many hours and has been an essential figure in projects like the Keep Rongotea Beautiful campaign, the conception and construction of the Te Kawau Memorial Recreation Centre, the Waitohi Road walking track development and benches and the Douglas Square upgrade.
Safety has always been a priority for Lance, and he initiated a Neighbourhood Watch patrol that pedalled through the streets of Rongotea on Saturday nights for over six years, helping to keep our community secure. Joining the Rongotea Volunteer Fire Brigade over 37 years ago, Lance is now the Deputy Fire Chief and continues to attend incidents and community events as a firefighter.
Alongside these incredible achievements, Lance is also the coordinator of the Rongotea Times, the local village newspaper and has been a Justice of the Peace since 2003. His commitment to family shines through as he helps on his son's farm in the Pohangina Valley during his spare time. His unwavering dedication, boundless generosity, and enduring love for his community make him a true hometown hero.