Our Vision
Connected, vibrant and thriving Manawatū District - the best lifestyle in New Zealand
This expression of the desired future state of Manawatu was originally developed by the Council in 2011. It has been updated in 2017 for inclusion in the Long Term Plan 2018-28 along with the Vision Statements for our district communities:
Rural Area Vision Statement

Providing world-leading food, products and services within a beautiful sustainable rural landscape that offers outstanding recreational opportunities.
Village Vision Statement

Attractive and prosperous communities that offer lifestyle choices and business opportunities within a unique environment.
Feilding Urban Vision Statement

An attractive, progressive and inclusive country town that offers lifestyle choices, and is the agri-business hub of the Region.
These Vision Statements guide Council in its activity and provides a compelling picture of our future.
---
Community Outcomes we are working towards
Environment - Manawatū District protects the natural environment through stewardship of the District's natural and physical resources
Attract and Retain Residents - Manawatū District attracts and retains residents and businesses
Broad Economic Base - Manawatū District develops a broad economic base from its solid foundation in the primary sector
Quality Infrastructure - Manawatū District is connected via quality infrastructure, services and technology
Safe Built Environment - Manawatū District's built environment is safe, resilient and attractive
Focussed and Efficient - Manawatū District Council is a customer-focussed and efficient organisation
---
Organisational Values - how we deliver on our Vision
Our organisation promotes the four values of:
Fun - we enjoy our work and share that joy with energy and passion.
Professionalism - we act with respect, integrity and pride towards our community, our workmates and the work we do.
Support - we help our community and our workmates, making opportunities for everyone to be heard, understood and valued.
Care - we make our community and our work environment a better place.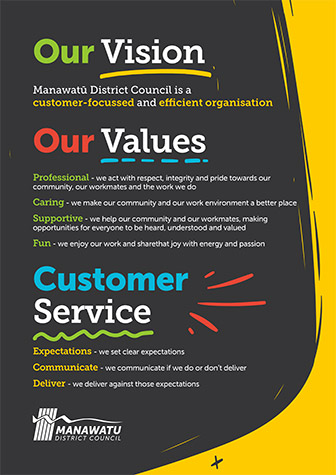 ---
Customer Service
Expectations - we set clear expectations
Communicate - we communicate if we do or do not deliver
Deliver - we deliver against those expectations
---
The result - Our people delivering great service to our community