Our Vision
Proudly provincial. A great place to land - Wehi nā te kāinga taurikura nei ki tuawhenua
This expression of the desired future state of Manawatū was originally developed by the Council in 2020, as part of the Manawatūmeke 10 Year Plan 2021/31.
Strategic Priorities
A place to belong and grow. He kāinga e ora pai ai te katoa - We provide leisure and sports facilities and support community activities to encourage social and cultural well-being for everyone.
A future planned together. He kāinga ka whakamaherea tahitia tōna anamata e te hapori tonu - We work with all parts of our community to plan for a future everyone can enjoy.
An environment to be proud of. He kāinga ka rauhītia tōna taiao - We protect and care for the Manawatū District's natural and physical resources.
Infrastructure fit for future. He kāinga ka tūwhena tonu ōna pūnahahanga, haere ake nei te wā - We ensure the Manawatū District has infrastructure (water, roads, etc.) that meets the needs of the community now and into the future.
A prosperous, resilient economy. He kāinga ka tōnui tōna ōhanga - We aim to make the Manawatū District a great place to live, to visit and to do business.
Value for money and excellence in local government He kāinga ka eke tōna kāwanatanga ā-rohe ki ngā taumata o te kairangi - We take pride in serving our communities. We focus on doing the best for the District.
---
Organisational Values - how we deliver on our Vision
Our organisation promotes the four values of:
Fun - we enjoy our work and share that joy with energy and passion.
Professionalism - we act with respect, integrity and pride towards our community, our workmates and the work we do.
Support - we help our community and our workmates, making opportunities for everyone to be heard, understood and valued.
Care - we make our community and our work environment a better place.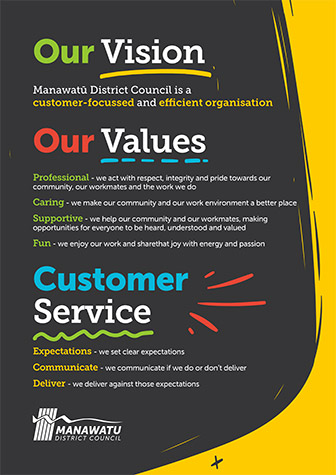 ---
Customer Service
Expectations - we set clear expectations
Communicate - we communicate if we do or do not deliver
Deliver - we deliver against those expectations
---
The result - Our people delivering great service to our community